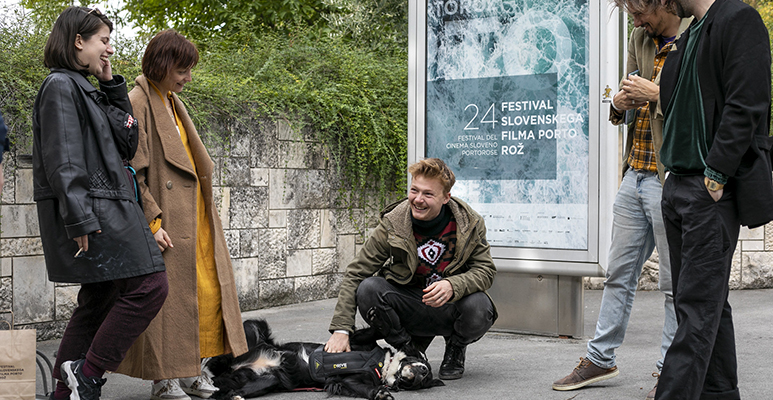 Saturday at the 24th FSF Portorož
Today's line-up is part of a strand titled HERE, SO FAR, revealing stories we fail to see although they're right in front of us. At 1 pm, a replacement screening of One Hundred Years Since the Carinthian Plebiscite takes place in Monfort.
At 10 am, a matineé for children takes place in the Tartini Theatre, Piran, with 'The Magical World of Animation', a programme of the finest animated films as selected by the Slovenian Animated Film Association. Bring your kids, admission is free!
Events for industry delegates start with a panel discussion 'Film and Tourism', where invited speakers discuss the significance and potential of film festivals for their local environment and its tourism. The event has live streaming.
At 12 noon, the Directors Guild of Slovenia has a presentation of Dokumentarnica, its new documentary filmmaking lab with directors Matjaž Ivanišin, Rok Biček, and Petra Seliškar. At lunchtime, the Slovenian Animated Film Association is organising a reception for film professionals and students. This will be followed by the 2020 and 2021 Kosobrin Awards Ceremony celebrating priceless below-the-line crew members, organised by the Directors Guild of Slovenia at 4 pm.
The Q&As with the casts and crews of the films screened on Friday take place in Avditorij's White Hall, starting at 10 am. All Q&As with filmmakers are broadcast live by the AKTV film academy TV and available on the AKTV website later on.
Late at night, day 5 of the festival closes with a concert by The Dreams, the best Slovenian jam band. While Southern rock and blues are not broad enough categories to describe the genre of this seven-man band, they do provide a solid basis for live improvisation, a staple at their gigs. What drove The Dreams to start the band, and still drives them today, is a desire to explore the wealth of dynamic music riddled with improvisation, and to keep the flow of positive energy between musicians and audience. See you in Monfort at 23 pm!