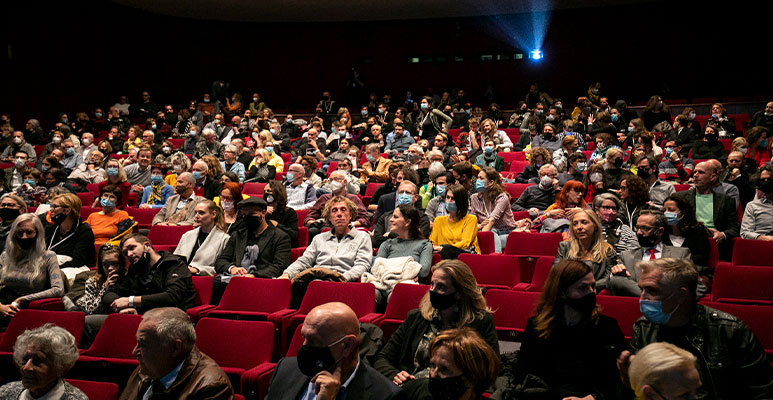 Thursday at the 24th FSF Portorož
Today's line-up is part of a strand titled OUT IN THE OPEN, films focusing on or being focused on by their environment, with the eye of the camera mainly staying outdoors.
Industry events in Avditorij's Green Hall start with a round table on the Slovenian language in cinema. Screenwriters, directors, actors, language editors, and film theorists are joining Emica Antončič, the editor of Dialogi magazine, to discuss the various aspects of the use of the Slovenian language in films. This will be followed by a panel discussion by AIPA on Slovenia's failure to implement two directives of the European Parliament and of the Council that are pivotal to the protection of copyrights in the audiovisual sector, as well as other vital changes in Slovenia's copyright law. The last event of the day for industry delegates is Part 1 of the presentation of RE-ACT's CIRCLE Women Doc Accelerator, an exclusive training program for up to twelve selected female filmmakers (directors and/or producers) who are seeking support to develop their films and further their professional skills. All industry events are also streamed live via Zoom.
In the Tartini Theatre, Piran, a presentation of the Days of Slovenian Film in Belgrade takes place at 10 am.
The Q&As with the cast and crews of the films screened on Wednesday take place in Avditorij's White Hall, starting at 10 am. All Q&As with filmmakers are broadcast live by the AKTV film academy TV and available on the AKTV website later on.
At 11 pm, Lovro Ravbar & Get On Board Collective take the stage at Monfort, promising large doses of rhythm, lavish harmonies, and excellent solos. A limited number of free tickets are available at the Festival Info Point in the Avditorij Portorož foyer and in Monfort (during screenings). A maximum of 4 tickets may be collected per person. See you at Monfort!