Metod Badjura Lifetime Achievement Award
The Festival of Slovenian Film traditionally presents the Metod Badjura Award for lifetime achievement in cinema. The panel of judges consisting of Karpo Godina, Dušan Moravec, Aleš Pavlin, Olga Toni and Varja Močnik, decided to give the 2020 Badjura Award to animation filmmaker Konrad (Koni) Steinbacher.
Konrad (Koni) Steinbacher: Recipient of 2020 Badjura Lifetime Achievement Award
Konrad (Koni) Steinbacher was born in 1940 in Zgornje Prebukovje, a village in the Pohorje Hills above Slovenska Bistrica, Slovenia. After receiving his first years of schooling in Šmartno na Pohorju and Slovenska Bistrica, he wanted to continue his education where he could show his talent. Teachers advised him to enrol at the School of Design in Ljubljana. There, Steinbacher soon joined the film club established by the students of the Ivan Cankar Student Residence Hall with the help of their dorm parent, film educator Mirjana Borčič. Thanks to his mentor, he realised one can start making films as early as in high school, and went on to produce his first docudrama The Death of the Wall (Umrl je zid). After finishing his studies at the School of Design and Faculty of Education, Steinbacher got a job as an art teacher at the Izola Primary School in 1964. Right away, he started a film club and a school cinema, discussing the secrets of cinema and writing screenplays with pupils. As they had no cameras to work with, filming was the only stage they did not tackle. In his art classes, Steinbacher introduced children to the ABCs of animation.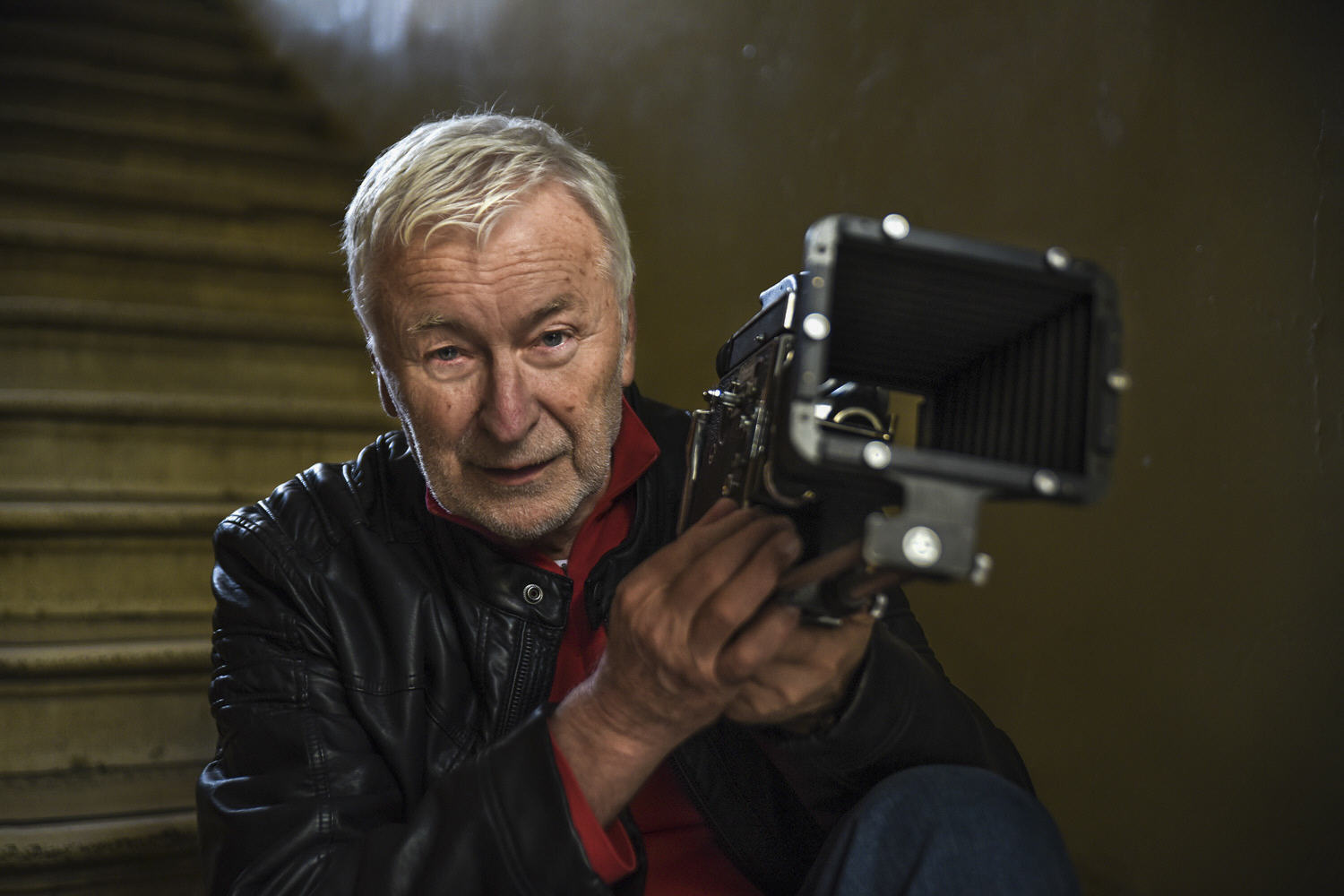 Steinbacher emerged from the ranks of amateur filmmakers and animation clubs. By establishing the Zarja Film Club in Slovenia's coastal region, he gave rise to a lively amateur filmmaking scene. The short children's animations (more than 30 one-minute films), fiction and documentary films made as part of the club went on to receive a number of international and national awards. One of the most notable works from this period is the first Slovenian children's animation The Fisherman (Ribič, 1967), a film made by a group of Izola Primary School pupils led by Steinbacher. Together with young film enthusiasts, he established Animation Studio Koper (AAF) in 1970 and started making films himself. Very early on, members of AAF – including Steinbacher, Janez Marinšek, and their younger peers Boris Benčič and Davorin Marc as four most prolific and successful ones – started winning top awards at amateur film festivals, which were very common at the time in Yugoslavia and elsewhere. For their film The Speaker, Steinbacher and Marinšek won major awards and accolades at a number of amateur film festivals (1970 – Golden Plaque for Genre Film, 14th Amateur Film Festival of Yugoslavia, Ljubljana; 1971 – Special Award for Animated Film, Festival of Amateur Film Festivals of Yugoslavia, Leskovac; 1972 – Bronze Plaque, Filmfestival der Nationen, Velden). Another film with a successful festival run was The Fig Leaf (1971) (1971 – Golden Plaque for Genre Film, 8th Amateur Film Festival of Slovenia, Maribor; Special Commendation for Animated Film, 15th Federal Amateur Film Festival, Sarajevo; 1972 – Silver Plaque and Special Award for Best Concept, Filmfestival der Nationen, Velden). A number of awards and accolades were also won by Coexistence (1972 – Commendation for Best Animated Film and Bronze Plaque for selection, 7th Interclub Festival of Amateur Film, Pula; Golden Plaque for Animated Film, 5th International Amateur Film Festival, Skopje; Award for Best Animated Film, Festival of Amateur Film Festivals of Yugoslavia, Leskovac; 1973 – Bronze Plaque, European Amateur Film Festival, Warsaw), and Superman (1972 – Golden Plaque for Narrative Film, 6th Concorso Dama Bianca, Sistiana near Trieste; Commendation for Best Animated Film and Bronze Plaque for selection, 7th Interclub Festival of Amateur Film, Pula; 1973 – Golden Plaque from Železar Jesenice).
In 1974, Steinbacher and Marinšek had their debut as professional directors and animators for the then Viba Film studio with the film Tele-Matter. Student, another film made by Steinbacher for Viba Film in 1975, marks the birth of modern Slovenian auteur animation. The film won the Silver Medal at the Festival of Yugoslav Film in Belgrade and the Metod Badjura Award for Animation at the Week of National Film in Celje.
In their films, Steinbacher and Marinšek opted for collage animation, a technique the Zagreb school had not practiced at the time. Since the technique was barely used even internationally, the pair were virtually pioneers of collage animation. Even their amateur films made as part of the Animation Studio Koper featured a variety of materials. In The Fig Leaf (1971), the first Slovenian animated music video for Faraoni, a hugely popular band at the time, Steinbacher and Marinšek used a whole range of materials, from an animated naked body to cracked chicken eggs. Similar explorations continued with their professional films. Unfortunately, however, the then Viba Film studio had deficient professional standards of organising animated film production, and the authors lacked a steady team to work on animations exclusively. Hence their conscious decision to avoid the conventional precision in drawing and animation, and instead play with the grotesque or crudeness that could be achieved by combining collage and traditional drawing on plastic foil. Their most notable amateur film is the only Slovenian animated film analysed by the leading Yugoslav animation theorist Ranko Munitić in his book An Introduction to the Aesthetic of Animated Cinema (Uvod u estetiku kinematografske animacije): "…of all the films, The Swamp (1976) features the most extensive range of design elements: figures cut out of paper, their clothes made (in some instances) of pieces of fabric; in cabinets, colour photos of bottles, sandwiches, and pastry taken from retail catalogues; the swampy terrain itself on which the story unfolds 'built' by applying to the backdrop (a) rough pieces of MDF, (b) real soil, pebbles and sand, and (c) puddles of real water, which gradually turn into quicksand…"
The events unfolding in the colourful abstract space of The Swamp can be understood as a metaphor for the moral that licentious life is the road to perdition. The film switches between three animation techniques: hand-drawn animation as the dominant technique, followed by collage and puppet animation. The collage technique is mainly used for photos in the form of paintings, statues and books, while puppet animation is used just briefly, in a scene with a 3D representation of the swamp and water. The film includes a wealth of innovative, artistically strong images, their volume highlighted by the use of two colours, such as yellow and white, or grey and white, in combination with purple or pink. In addition, the film excels in very innovative, experimental character animation.
Stone (1984), a traditional animation, is known for remarkable rhythm and a witty story. The work received a warm reception worldwide, including from the jury at the Festival of Yugoslav Film in Belgrade, which presented it with the Grand Gold Medal. Steinbacher won further Gold Medals at the festival in Belgrade for Epidemic (1982) and Adam and Eve, one of the seven episodes of the satirical animated series for adults Snakes (1987–88) he made together with Marinšek between 1987 and 1988. In 1974, the two filmmakers made an animated title sequence for Youth on the Staircase (Mladost na stopnicah), a TV series directed by France Štiglic. Between 1994 and 1998, Steinbacher directed and animated five episodes of the live-action/animated children's series Erase Write, written by Dimitrij Kralj, in which an animated pencil, rubber and pencil sharpener dash through city streets, trying to get people to stop pollution. It is precisely the environmental aspect of the stories and the experiments in combining a live-action fiction film with animation that make this animated series original. At the Festival of Slovenian Film, Steinbacher received commendation for his film Dinner (2000), and the Vesna Award for Animation for Dance of Death (2010).
In his long creative career, Koni Steinbacher made a series of amateur and as many as 21 professional animated shorts, with his latest – The Legend of the Happy Hill – completed in 2020. For their body of work in animated film, Steinbacher and Marinšek were presented with the Prešeren Fund Award in 1977. Koni Steinbacher is recognised as an important, outstanding animation filmmaker both domestically and internationally. His films have been screened in a number of international festivals, many of them winning awards. A pioneer of amateur and professional filmmaking and film education, Steinbacher laid the foundation for the development of Slovenian auteur animation.