Soma
COMPETITION · STUDENT · ANIMATED
2019 · 9 min · colour · STEREO · DCP · 16:9
Co-funded by the Slovenian Film Centre.
| | |
| --- | --- |
| PRODUCER | Boštjan Potokar |
| PRODUCTION | Akademija umetnosti Univerze v Novi Gorici |
| CO-PRODUCTION | Kinoatelje, Famul Video Lab, Mnogougao |
We thought we were made of dust, but in fact we are just spirit. Situated in a strange, trashy universe, the story revolves around two creatures. A taxidermist and a butcher. The butcher gets the taxidermist hooked on his drugs, which he offers as an alleged cure for the taxidermist's disease. The taxidermist becomes a junkie and gives away the most precious love to the butcher in exchange for more drugs. After realizing what he did, he goes to take what belongs to him, but the path ahead is a one-way journey.
| | |
| --- | --- |
| DIRECTED BY | Sandra Jovanovska |
| WRITTEN BY | Sandra Jovanovska, Ivan Antić |
| DIRECTOR OF PHOTOGRAPHY | Sandra Jovanovska |
| MUSIC | Ivan Antić |
| EDITED BY | Sandra Jovanovska |
| PRODUCTION DESIGN | Sandra Jovanovska, Ivan Antić, Helene Thuemel, Matjaž Štrukelj |
| COSTUME DESIGN | Sandra Jovanovska |
| SOUND DESIGN | Ivan Antić |
| LEAD ANIMATOR | Sandra Jovanovska |
| SOUND RECORDING | Ivan Antić |
| VOICE | Ivan Antić (Butcher), Samo Bihar (Taxidermist), Filip Bihar (Taxidermist), Sandra Jovanovska (Doll) |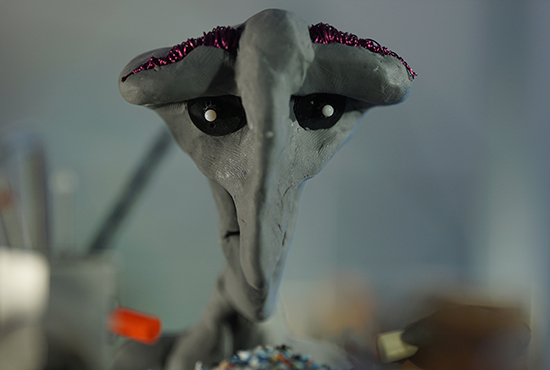 19/09/2019 @ 11:30
Auditorium Portoroz
1.) Competition