Good Day's Work
COMPETITION · CO-PRODUCTION · FICTION
2018 · 75 min · colour · DIGITAL · DCP · 1:1,85
Co-funded by the Slovenian Film Centre.
Bosnian with Slovenian subtitles
| | |
| --- | --- |
| PRODUCERS | Jovan Marjanović, Amra Bakšić – Čamo, Mirsad Purivatra |
| CO-PRODUCER | Ida Weiss |
| CO-PRODUCTION | TRT (TR), Obala Art Centar (BiH), Bela Film d.o.o. (SI), Teferruat Film (TR) |
Having long been out of work, Armin finally lands a job interview. On his way, he runs into a car accident, and by the time he finally makes it, the interviews are already over. Before he has a chance to tell his pregnant wife of another failed attempt, a job offer arrives through his brother-in-law to work in a slaughterhouse. Unable to kill an animal, Armin lands the position of a security guard and soon finds that workers there are stealing. Conscientious as he is, he reports the theft to the owner.
| | |
| --- | --- |
| DIRECTED BY | Martin Turk |
| WRITTEN BY | Martin Turk |
| DIRECTOR OF PHOTOGRAPHY | Radislav Jovanov – Gonzo |
| MUSIC | August Braatz |
| EDITED BY | Jurij Moškon |
| PRODUCTION DESIGN | Emina Kujundžić |
| COSTUME DESIGN | Emina Kujundžić |
| SOUND DESIGN | Igor Čamo |
| CAST | Aleksandar Seksan (Armin), Maja Zečo (Jasmina), Senad Alihodžić (Kenan), Ermin Sijamija (Izet), Adijan Kulovac (Edin), Mladen Nelević (Tarik), Muhamed Hadžović (Vedran) |
Director's statement:
On the one hand, I think the tragedy about Armin's character is that his moral posture is so genuine, heart-breaking. On the other hand, this is precisely what keeps preventing him from accomplishing his goal.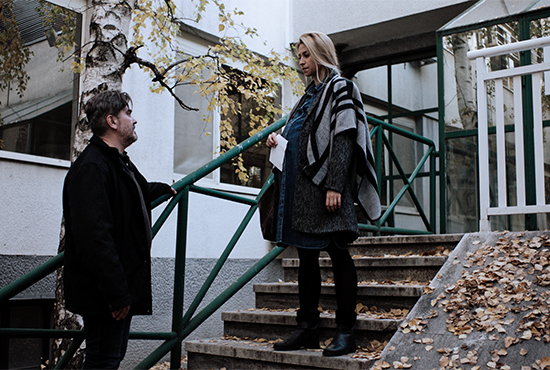 18/09/2019 @ 20:00
Monfort Exhibition Space
1.) Competition