God Exists, Her Name Is Petrunya
COMPETITION · CO-PRODUCTION · FICTION
2019 · 100 min · colour · DOLBY SRD · DCP · 1:2,35
Co-funded by the Slovenian Film Centre.
Macedonian with Slovenian subtitles
| | |
| --- | --- |
| PRODUCER | Labina Mitevska |
| CO-PRODUCER | Danijel Hočevar |
| CO-PRODUCTION | Sisters And Brother Mitevski (MK), Vertigo (SI), Entre Chien Et Loup (BE), Spiritus Movens (HR), Deuxième Ligne Films (FR), Ez Films (FR) |
In Stip, a small town in Macedonia, every January the local priest throws a wooden cross into the river and hundreds of men dive after it. Good fortune and prosperity are guaranteed to the man who retrieves it. This time, Petrunya dives into the water on a whim and manages to grab the cross before the others. Her competitors are furious – how dare a woman take part in their ritual? All hell breaks loose, but Petrunya holds her ground. She won her cross and will not give it up.
| | |
| --- | --- |
| DIRECTED BY | Teona Strugar Mitevska |
| WRITTEN BY | Teona Strugar Mitevska, Elma Tataragić |
| DIRECTOR OF PHOTOGRAPHY | Virginie Saint-Martin |
| MUSIC | Olivier Samouillan |
| EDITED BY | Marie-Hélène Dozo |
| PRODUCTION DESIGN | Vuk Mitevski |
| COSTUME DESIGN | Monika Lorber |
| SOUND DESIGN | Ingrid Simon, Thomas Gauder |
| MAKEUP ARTIST | Mojca Gorogranc Petrushevska |
| SNEMALEC ZVOKA | Hrvoje Petek |
| SOUND RECORDING | Zorica Nuševa (Petrunija), Labna Mitevska (Slavica), Stefan Vujisić (mladi policist), Suad Begovski (duhovnik), Simeon Moni Damevski (policijski inšpektor Milan), Violeta Šapkovska (mama Vaska), Petar Mirčevski (Petrunijin oče), Andrijana Kolevska (Blagica), Nikola Kumev (starejši policist), Bajruš Mjaku (tožilec), Xhevdet Jashari (TV snemalec) |
Director's statement:
I don't have the answer to how to balance tradition and modernity, nor to what is the place of tradition in the future. What I am interested in is how tradition can be modulated, for instance to involve the second sex on a more equal level.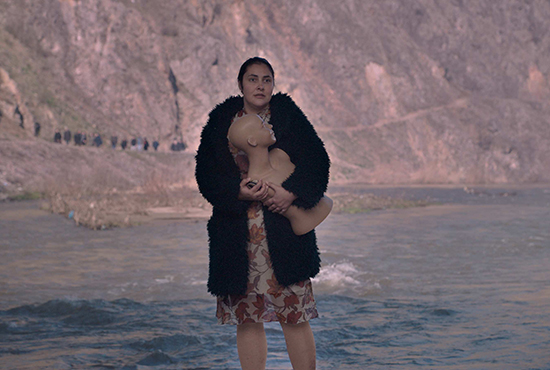 22/09/2019 @ 17:00
Monfort Exhibition Space
1.) Competition