Jury
The Vesna Awards of the 20th Festival of Slovenian Film will be presented by two three-member juries.
(1)
Jury for feature film category (fiction, documentary, animated and minority co-production fiction films), comprised of:
Jasna Krajinovič, director
Dr Peter Stankovič, professor and film historian
Zlatko Vidacković, programme director, film journalist
JASNA KRAJINOVIČ (Celje). In 1992, after studying French and English literature at the Ljubljana Faculty of Arts, she entered AGRFT, Ljubljana, where she stayed for two years. She then moved to Brussels, where she studied Film Directing at the National Institute of Performing Arts (INSAS). Since graduation in 1999, she has been devoting her life to independent filmmaking. All her films were produced by the Dardenne brothers at Dérives Productions.
filmography, awards
The Empty Room (2016), feature documentary; Grand Prix, Doc Artfest, Neubrandenbourgh, 2016; Special Jury mention, Sguardi Altrove, Milano, 2017
My daughter Nora (2016), short documentary; Special Jury mention in the Documentary Competition, 45th Huesca IFF, 2017; Grand Prix, Prix des Lycéens, Human rights FF, Paris, 2013; Special Jury mention, Documentary FF Munich, 2013; Jury Prize, Documentary FF, Gdansk, 2013; Étoile de la Scam, Paris, 2013; Grand Prix Nanook, Festival Jean Rouch, Paris, 2013; Prix de l'audiovisuel, la Scam Belgique, 2013; Special Jury mention, RIDM, Montréal, 2012
Damian's Room (2008), feature documentary
Etoile de la Scam (Paris), 2009; Grand Prix toutes catégories, IFF of Independent Filmmaking, Brussels, 2009; Golden Bird, Ljubljana, 2010
Two sisters (2006), feature documentary; Special Jury mention, Ecocinema FF Athens, 2006; Special Mention, Professional category, Traces de vies, Clermont-Ferrand, 2006; Award Coop Breizh, Rencontres du cinéma Européen de Vannes, 2007; Award de Duna TV, Astra Film Festival, Sibiu, 2007; Award for the Best Documentary of the Year, Scam, Paris, 2010
Saya & Mira (2002/3), feature documentary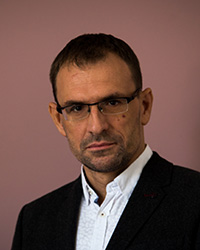 Dr PETER STANKOVIĆ (Ljubljana, 1970) obtained his master's degree from the Central European University, Prague, and his PhD from the Faculty of Social Sciences, Ljubljana, where he currently works as Professor of Cultural Studies, while also lecturing at AGRFT. Previously he also lectured at the Department of Slavonic Studies, Alpen-Adria Universität, Klagenfurt; Department of Slavonic Studies, University of Vienna; and at the Faculty of Humanities and Social Sciences, University of Rijeka. At the Faculty of Social Sciences, he is coordinator of the Cultural Studies PhD programme and member of the editorial board for the Teorija in praksa magazine. He is also a member of the Ekran magazine editorial board. As researcher, he has published a series of academic papers discussing film, popular culture, music, ethnic identities, sports, food cultures, etc. He has written three academic monographs, including an extensive study of the history of Slovenian film. In the years 2011–14 he worked as a reviewer of ERC project proposals for the field of humanities at the European Research Council in Brussels.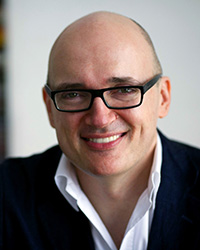 ZLATKO VIDACKOVIĆ (Šibenik, Croatia, 1972) is a film critic, university lecturer, editor and programmer. He has a master's degree in Journalism and has been involved in journalism since 1998 (in Jutarnji list, Globus, Vijenac and Vjesnik). In 2008 he founded Kulisa.eu, an online newspaper group dedicated to culture, serving as its editor-in-chief.
He was the president of the Croatian Film Critics' Association (HDFK) for five terms. He served as FIPRESCI juror in Cannes, San Francisco, Venice and Berlin. He is the vice-president of FEDEORA – Federation of Film Critics of Europe and the Mediterranean and IPA – International Press Academy.
In 2010 he founded art-cinema Metropolis at the Museum of Contemporary Art in Zagreb and he has served as its programme director ever since. He has been the initiator and producer of the European Film Days in Zagreb, held since 2012.
From 2004 to 2014, and again since 2017 he has been the artistic director of Pula FF, transforming it into the most visited cultural event in Croatia.
(2)
Jury for documentary film category (feature length, medium-length and short), student film category, and minority co-production category, comprised of:
Nataša Barbara Gračner, theatre and film actress
Maja Malus Azhdari, film selector
Rok Sečen, producer
NATAŠA BARBARA GRAČNER (Ljubljana, 1969) is a theatre and film actress, theatre director and acting mentor at AGRFT, Ljubljana. For seven years she was a member of the Mladinsko Theatre, Ljubljana. Since 1998 she has been a principal in the Slovenian National Theatre, Ljubljana, and since 2015, assistant professor at AGRFT.
She has appeared in more than 200, mostly principal, theatre, film, television and radio roles. She attended major festivals across Europe, the Americas and Asia, receiving numerous awards, both at home and abroad, for her acting achievements, such as the Prešeren Fund award, seven Borštnik awards, the Župančič and Sever awards, the Noble Comedian award in Celje, the Marula award for acting achievement in Split, the Veljko Maričić award in Rijeka, best actress award at the FF in Valencia, and two Vesna awards for three roles at the FSF. The solo comedy Defending the Caveman, which she directed, is the theatre piece with the highest number of performances in Slovenia.
MAJA MALUS AZHDARI (Brežice, 1979) is a sociologist, filmmaker and producer. In 2012, she founded the Days of Slovenian Documentary Films in Maribor, which in 2014 turned into the DOKUDOC International Documentary Film Festival.
She was a member of the programme commission for AV project implementation within the Slovenian Film Centre. She is president of the AV and contemporary media art commission operating under the Glazer Awards Board of the City of Maribor, and director of Maribor Youth Cultural Centre, a public institute that combines youth, culture and tourism.
ROK SEČEN began working in film as a student. In 2003 he wrote his first screenplay – for the short film Free Spirited Friends, the making of which was financed by the Slovenian Film Fund. After graduation he started to work in the Secretariat General of the Ministry of Education, and in 2005 he assumed the management of an accounting, and financial and tax counselling firm. In film, he works as producer and screenwriter.
He is a co-founder of the Mono O production company. His vision is production of limited scope, in order to enable him to trace each project from its early development to distribution. Mono O is a producer, executive producer, co-producer, and supplier of film services. In 2015 the company managed to expand its services to alternative distribution models (Kinoluna).
The first feature film produced by Mono O, The Tree, premiered at Karlovy Vary IFF 2014, where the
FEDEORA Federation of Film Critics ranked it among the best three films of the East of the West section. It won several awards, including FIPRESCI and Youth Jury Award as well as Vesna awards for best cinematography (Mitja Ličen), best actor in a leading role (Jernej Kogovšek), and best music (Janez Dovč). The Tree was the Slovenian contender for an Oscar nomination.
Currently, Rok is producing his second feature film, History of Love. In the process, he attended the Midpoint screenplay and film dramaturgy programme run by the FAMU School, Prague, and the EAVE producers workshop.